Mary's Transformation Story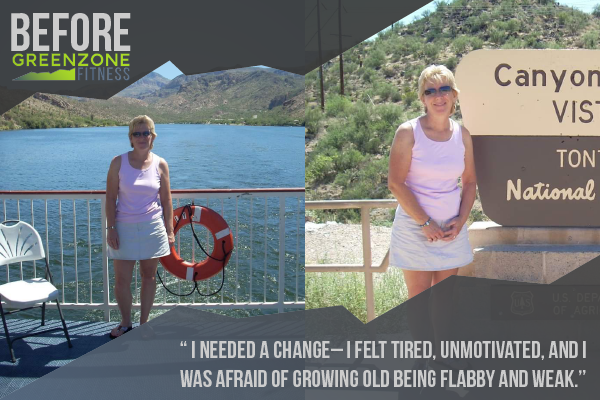 What was life like BEFORE you worked with Green Zone?
Three years ago I needed a change in my life because I felt tired, unmotivated and I recently become a Grandma. I had a fear of growing old being flabby and weak. I wanted to have the energy to keep up with my grandkids, and I wasn't ready to get old just yet. Despite the fact that I always tried to stay as healthy as possible over the years, I knew there was so much room for improvement.
What was life like during your time with Green Zone?
That's where Green Zone came into play.  I started the online exercise program with Green Zone in which they give me exercises 5 days a week that involves cardio and building muscle. It's so perfect for my situation because I live in a rural area and don't have access to a gym. Sara and Ryan also gave me the inspiration to examine my diet and eating habits.  I stopped eating meat, only drink alcohol on the weekends, and learned many positive aspects of eating a plant-based diet.  So I began the exercise program, changed my diet and lost 16 pounds.  I increased my muscle mass, endurance, and I feel energized.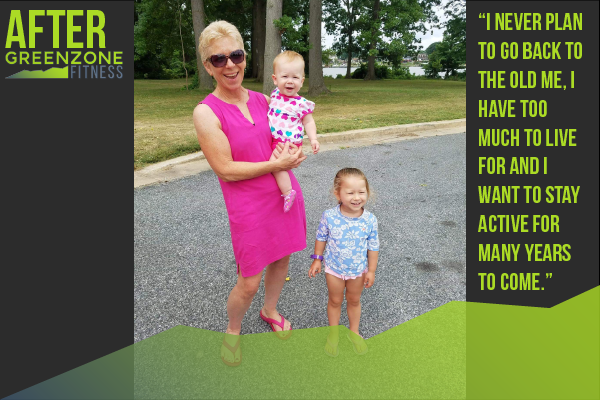 What was life like AFTER your time with Green Zone?
Today I am continuing my exercise program with Green Zone because it helps me stay motivated and accountable to being active and healthy.  They give me a variety of exercises that always keep me interested and challenged.  I never plan to go back to the old me. I have too much to live for and I want to stay active for many years to come.  On many occasions people have come up to me and tell me how much I have changed, in a good way of course.  It's never to late to improve yourself and create new healthy habits.