Southwest Tofu Breakfast Scramble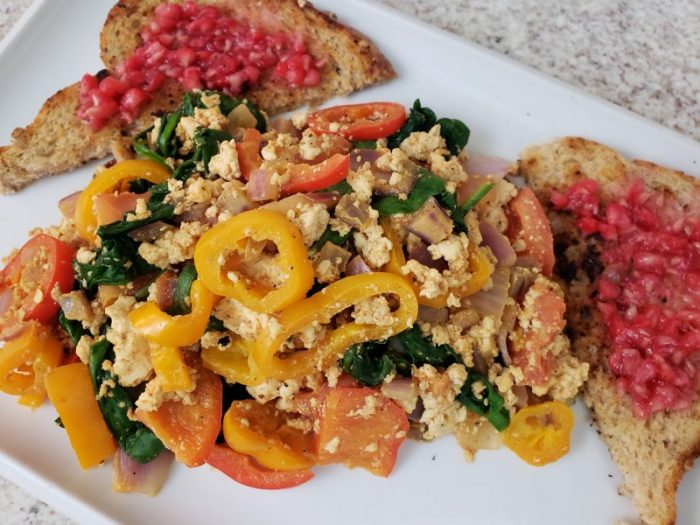 Servings:  4    Calories: 149    Carb: 14g    Protein:  15g    Fat: 3g
Ingredients:
1 package extra firm tofu (place in between paper towels or cloth to remove as much water as possible)
½ package of Lightlife Gimme Lean Veggie Sausage
1 onion, diced or cut into strips
1 green bell pepper, cut into strips
1 red bell pepper, cut into strips
2 cloves garlic, minced
6 oz mushrooms, chopped
1 teaspoon of the following: cumin, pepper, onion powder, garlic powder, chili powder
1 tablespoon nutritional yeast
Optional Toppings (not included in macros):
1-2 slices of bread (for toast on the side)
Avocado
Salsa
Hot Sauce
Cilantro
Green onions
Daiya Dairy Free Cheese
Instructions:
Spray skillet with non-stick cooking spray and heat of medium-high heat. Add veggie sausage and sautee until brown (break apart into crumbles with a spoon while stirring)
Remove sausage from heat and set aside in a separate bowl
Spray skillet again with non-stick cooking spray. Add garlic and onion, sautee until tender (about 2-5 minutes)
Add bell peppers, mushrooms and seasonings (add 1 tablespoon of water if necessary to incorporate seasonings). Sautee for 3-5 minutes (or until soft)
Add tofu (crumble in hands while adding). Mix all ingredients together with wooden spoon while continuing to break apart tofu (should be the consistency of scrambled eggs).
Remove from heat, top with any of the above suggestions or anything else you'd like!
Want help with plant-based cooking techniques, ingredient substitutions or setting up your plant-based pantry?