Chickpea Grape Salad Wrap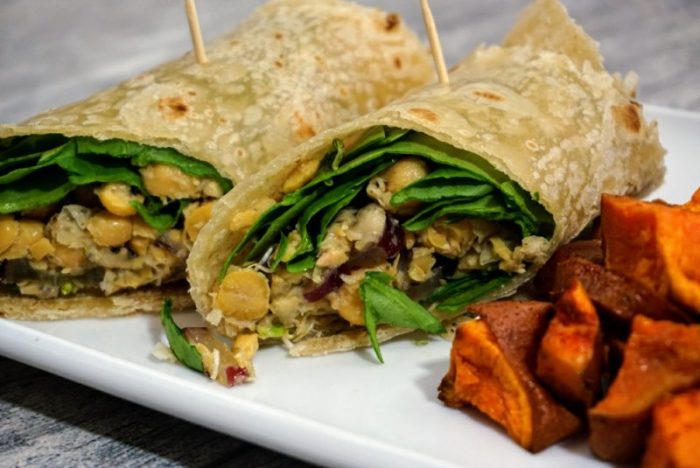 Servings: 4    Calories: 130    Carb: 21g    Protein: 6g    Fat: 2g
Note: Macros are for the garbanzo mixture only.  Choose whatever wrap you would like.  We used 1 brown rice tortilla (120 calories)
Ingredients:
1 can garbanzo beans, rinsed and drained and roughly mashed
2 tablespoons dairy-free yogurt
1 tablespoon Dijon mustard
10 red grapes, sliced into thirds
2 tablespoons red onion, diced
1/8 of a cucumber, sliced long ways
5 almonds, crushed or sliced
Handful of sprouts
Handful of spinach
½ teaspoon of the following spices: black pepper, Italian seasoning, garlic powder
Instructions:
Combine all ingredients into a mixing bowl (except for the sprouts and spinach)
Thoroughly mix all of the ingredients.  While mixing, mash some of the chickpeas
Place sprouts and spinach in large wrap then top with garbanzo bean mixture
Cut wrap in half and enjoy!
Want help with plant-based cooking techniques, ingredient substitutions or setting up your plant-based pantry?