Pumpkin Cranberry Spice Bread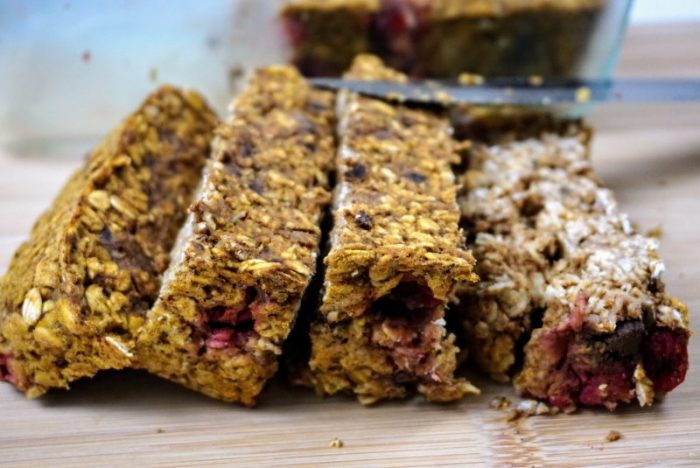 Servings: 8     Calories: 118     Carb: 22g     Protein: 3g     Fat: 2g
Ingredients:
2 cups oats
1 ½ bananas
½ cup of pure pumpkin puree (we used Libby's)
1/3 cup of unsweetened coconut milk (you can use any unsweetened non-dairy milk)
¼ cup of Walden Farms pancake syrup (you can use Agave or maple syrup but it will alter macros)
1 teaspoon baking powder
1 teaspoon vanilla extract
2 organic stevia packets
½ teaspoon cinnamon
½ teaspoon ground ginger
¼ teaspoon ground nutmeg
¼ teaspoon ground cloves
15 chocolate chips (Ghiradelli 62%)
¼ cup of whole fresh cranberries (or any berry of your choice)
Instructions:
Preheat oven to 350 degrees. Spray a loaf pan (approx. 9×5) with non-stick cooking spray.
Mix all dry ingredients together into a medium size mixing bowl.
Mix the banana and wet ingredients into another medium size mixing bowl. Mash the banana and wet ingredients together with a fork or a potato masher until well combined.
Combine both the wet and dry ingredients and thoroughly mix.  Pour into loaf pan and spread batter evenly with spoon or spatula.
Bake for 20-minutess uncovered. Turn off oven (but do not open) and let sit for another 10 minutes.
Let cool before serving. This can also be stored in freezer in an airtight Tupperware container.
Want help with plant-based cooking techniques, ingredient substitutions or setting up your plant-based pantry?