Black Bean Quinoa Burgers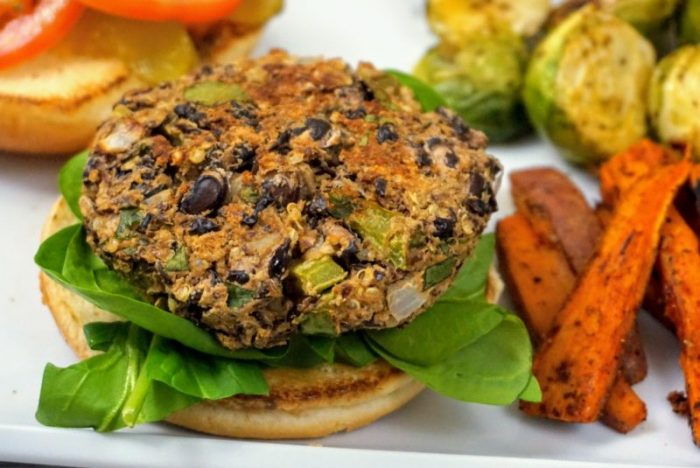 Servings: 6     Calories: 141     Carbs: 21g     Protein: 7g     Fat:2g
Ingredients
1 (15oz) can black beans, rinsed and drained
1/2 cup quinoa (cooked)
1 slice of bread, ripped or diced into small pieces (to mimic bread crumbs)
1/4 cup minced bell pepper
2 tablespoons minced onion
1 large clove garlic, minced
1 ½ teaspoons of ground cumin, onion powder, garlic powder, black pepper
2 flax eggs (1 tablespoon of flaxseed + 2 tablespoons of water. Mix, let sit for 5 minutes)
1 teaspoon hot sauce
Directions
Pre-heat oven to 425 degrees.
Roughly mash the black beans with a fork or a potato masher, leaving some whole black beans in a paste-like mixture.
Prepare flax egg and set aside.
Mix the quinoa, bread crumbs, bell pepper, onion, garlic, spices, hot pepper sauce and egg into the black beans using your hands.
Form the black bean mixture into 5 patties.
Bake in oven for approx. 20-minutess, flipping halfway through cooking (these can also be sautéed in a skillet sprayed with non-stick cooking spray).
Want help with plant-based cooking techniques, ingredient substitutions or setting up your plant-based pantry?