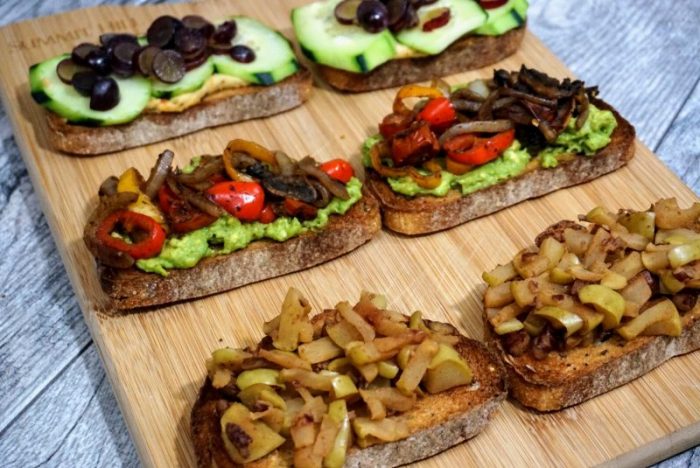 *Macros will be dependent on the type of bread and the amount of ingredients on each slice. 
Ingredients:
Baguette or thinly sliced bread of your choice
Non-stick cooking spray
Cucumber Grape Bruschetta
12 Red seedless grapes, sliced
1 Cucumber, thinly sliced
Roasted pine nut hummus (or any flavor of your choice)
Savory Avocado Bruschetta
1 Avocado, mashed
8-12 Mushrooms, thinly sliced
¼ Onion, thinly sliced
5-6 Mini sweet peppers, thinly sliced
8-10 Grape tomatoes, sliced
1 teaspoon Balsamic vinegar
Spices: black pepper, garlic powder, onion powder
Sweet Apple Bruschetta
1 Apple (red or green), diced
½ teaspoon Cinnamon
5-6 Pecans, chopped
1 tablespoon Walden Farms pancake syrup (you can also use Agave or Maple Syrup)
Instructions:
Pre-heat oven to broil. Line a baking sheet with foil and spray with non-stick cooking spray.  Set aside.
Begin prepping the Savory Avocado Bruschetta:

Spray a skillet with non-stick cooking spray. Prep vegetables and place in a bowl for sautéing.   Set aside.  Discard seed from avocado and place the avocado in a bowl to be mashed with a fork.
Begin sautéing vegetables and add spices (you can add all ingredients to skillet at once). Halfway through cooking add the balsamic vinegar and mix well. While vegetables are cooking (stir occasionally), mash the avocado with a fork.  Set aside.
When vegetables are finished cooking (about 4-5 minutes) remove from skillet and set aside.

Begin prepping the Sweet Apple Bruschetta:

Dice apple and place in a microwave safe bowl. Add the cinnamon, chopped pecans and syrup.  Microwave on high for approx. 4-5 minutes, stirring occasionally.
Remove cooked apples from microwave and set aside.

Begin prepping the Cucumber Grape Bruschetta:

Thinly slice the cucumber and grapes then set aside.

Spray bread slices with non-stick cooking spray. Broil the slices in oven for 3-5 minutes or until golden brown.  Flip halfway through cooking process to brown on both sides.
Assemble bruschetta! (Note: you can either assemble the pieces or set up a "bruschetta bar" for guests to assemble their own!)
Want help with plant-based cooking techniques, ingredient substitutions or setting up your plant-based pantry?