Lemon Basil Tofu Tacos with Asian Cabbage and Baked Chickpeas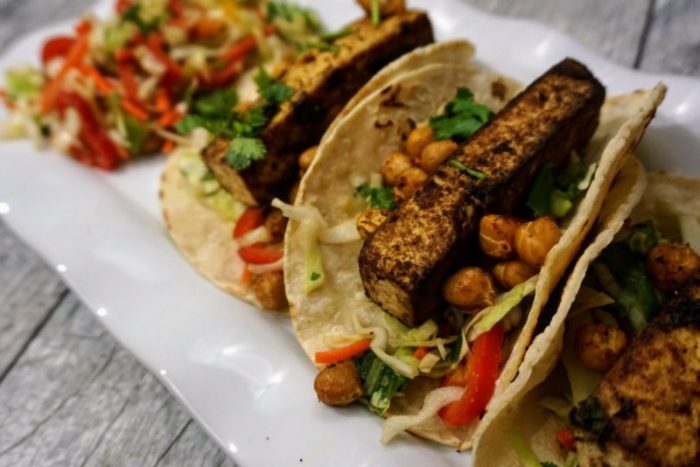 Servings: 2 Tacos     Calories:  250     Carb:  35g    Protein:  14g     Fat:  6g
(Macros listed are for 2 corn tortilla tacos, ¼ cup of chickpeas, 3oz of tofu and ½ of a cup of cabbage)
Lemon Basil Tofu Marinade:
1/3 cup finely chopped fresh basil (you can also use cilantro if you do not have basil)
2 tablespoons spicy Dijon mustard
1 tablespoon Walden Farms Pancake Syrup
1-2 teaspoons grated lemon zest
1/4 cup fresh lemon juice (the juice of about 1 large lemon)
1/4 teaspoon freshly ground black pepper
3 garlic cloves, minced
1 pound extra firm tofu, drained and pressed.  Cut into strips or cubes.
Asian Cabbage:
5 cups shredded cabbage (use the shredded cabbage in bag)
¼ cup green onions, thinly sliced
1 thinly sliced bell pepper
1 teaspoon ground ginger
⅓ cup rice vinegar
1 tablespoon light soy sauce
1 teaspoon sesame oil
Chickpeas:
1 can of garbanzo beans, rinsed and drained.
Any salt-free seasonings you prefer
Other:
Mission corn tortillas
Non-stick cooking spray
Instructions:
Preheat oven to 425 degrees and line a baking sheet with foil.  Spray with non-stick cooking spray and set aside.
Prepare tofu marinade by combining all ingredients together (minus tofu) and mixing well with a fork.
Add tofu and coat well with the marinade (it is easiest to use your hands). Cover and place in fridge for 1-2 hours (this step is optional but will make the tofu taste better with more time to sit!)
Prepare marinade for cabbage by combining all ingredients together (minus the cabbage) and mixing well with a fork. Add the cabbage and coat well.  Cover and set aside (this will be the filler for the taco).
Prepare garbanzo beans by placing them on the baking sheet sprayed with non-stick cooking spray. Add any salt-free seasonings you would like and coat well (it is easiest to use your hands).  Bake in oven for 10-15 minutes, flipping a few times.  Beans will be done when they turn golden brown.  You can begin cooking the tofu while the beans are in the oven.  When the beans are finished cooking, remove them from the oven and set aside.
Spray a large skillet with non-stick cooking spray. Sautee tofu strips until browned on all sides and firm (you will need to flip a few times).  You can also grill the tofu or bake at 425 for approx. 20-25 minutes or until golden brown.  Flip halfway through the cooking process.
Assemble tacos with all of the ingredients!
Optional Toppings (these are not included in macros listed above):
Bragg's Soy Sauce
Hummus
Yogurt
Mustard
Hot Sauce
Avocado
Fresh lime juice
Fresh cilantro or basil
Want help with plant-based cooking techniques, ingredient substitutions or setting up your plant-based pantry?