Asian Fusion Pineapple Boat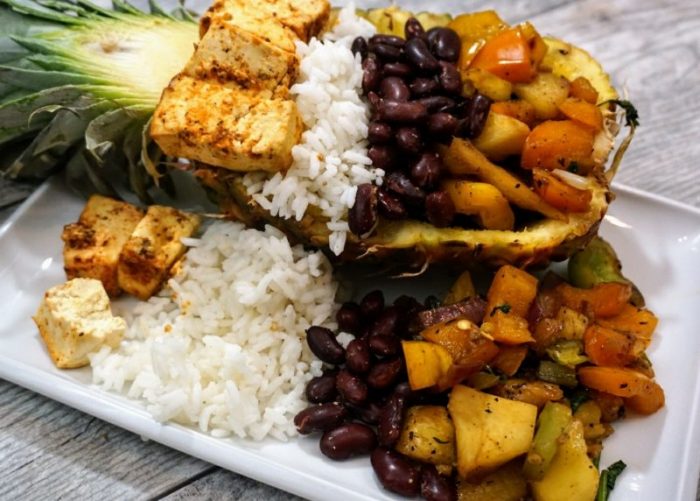 Servings: 2
Ingredients:
Pineapple Boat Filling:
1 whole pineapple (you will need a whole pineapple for 2 boats, but only use 1 cup of diced pineapple
for the filling)
1 cup rice, cooked
4oz tofu, cut into cubes and baked (do this ahead of time or use leftover tofu from fridge)
1/2 cup kidney beans, rinsed and drained
2 bell peppers, diced
½ of an onion, diced
1 clove garlic, minced
Spices: ¼ teaspoon of the following: black pepper, onion powder, garlic powder, cumin
Sauce:
½ of a teaspoon of chili garlic sauce (the can be found in the Asian foods isle of grocery store)
¼ cup Bragg's liquid aminos (you can also use low sodium soy sauce)
1 tablespoon Walden Farms Pancake Syrup (you can also use agave but this will increase calories)
Topping (optional. Not included in macros):
2 tablespoons dairy-free yogurt
1 tablespoon honey mustard (or Dijon)
Instructions:
1. Prep the pineapple by cutting it in half length-wise. Neatly remove the contents of each of the pineapple halves (you will use this in the filling) and dice. Set the cleaned pineapple and 1 cup of its contents aside (you can store the leftover pineapple in fridge for other recipes!)
2. Prepare sauce by combining all sauce ingredients in small saucepan and bring to a boil. Turn heat to low and let simmer for 5-8 minutes. Set aside.
3. Spray a large skillet with non-stick cooking spray and set to medium to medium high heat on the stove. Add the onion, garlic and bell peppers. Once they begin to soften add the diced pineapple and spices. Add half of the sauce to mixture. Cook uncovered for another 3-5 minutes then remove from heat.
4. Prepare optional topping of yogurt and mustard by mixing the two ingredients together in a small dish.
5. Assemble pineapple boats by filling the empty pineapple half with the rice, beans and vegetable mixture. Top with the remaining sauce and yogurt/mustard mixture (optional) and enjoy!
*Macros will vary depending on how full you make your boats.
Want help with plant-based cooking techniques, ingredient substitutions or setting up your plant-based pantry?