Servings: 6 Calories: 132 Carbs: 26g Protein: 5g Fat: 1g
Ingredients:
2 cups garbanzo beans, rinsed and drained
1.5 cups tomato sauce
1 small bell pepper, chopped
2 cloves garlic, minced
1 onion, chopped
2 tablespoons tomato paste
1 tablespoon balsamic vinegar
1 tablespoon Braggs Liquid Aminos (or a low sodium soy sauce)
1 tablespoon vegan Worcestershire sauce
2 organic Stevia packets
1 teaspoon ground cumin
1 teaspoon onion powder
½ teaspoon paprika
½ teaspoon black pepper
Dash of cayenne pepper (optional)
4 soft burger buns (not included in macros)
Cabbage or coleslaw mixture for topping on bun (not included in macros)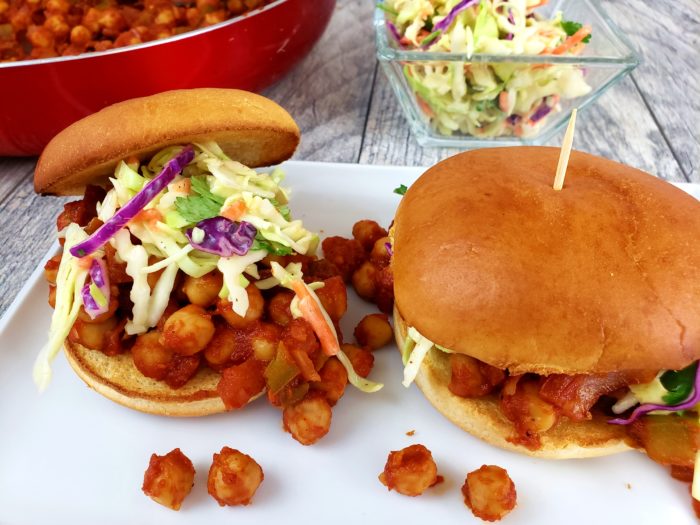 Instructions:
Spray skillet with non-stick cooking spray. Add onion, bell pepper and garlic. Sauté over medium heat for about 4-5 minutes.
Add the remaining ingredients and let simmer for an additional 8-10 minutes, stirring occasionally.
Serve on soft burger buns or lettuce wraps and top with slaw or anything else you would like. Enjoy!

Want help with plant-based cooking techniques, ingredient substitutions or setting up your plant-based pantry?