White Bean and Artichoke Burgers
Servings: 5 Calories: 178 Carbs: 31g Protein: 8g Fat: 1g
Ingredients:
1 14oz can of northern beans (you can use any white bean you would like), rinsed and drained
1 14oz can of artichoke hearts (in brine), drained and chopped
1 cup of rolled oats
½ of a medium onion, finely chopped
4-5 cloves of garlic, minced
1 teaspoon chopped rosemary
½ teaspoon black pepper
1 teaspoon freshly squeezed lemon
Instructions:
Sautee the onion, garlic and rosemary until golden brown in a skillet sprayed with non-stick cooking spray. Set aside.
Chop the artichoke hearts into smaller pieces after the have been rinsed and drained.
Add all ingredients to a large mixing bowl and mash with a potato masher.
Form into 5 patties (if you have a food scale this is about 130g per patty).
Bake at 375 degrees for 30 minutes or until golden brown. Flip halfway through cooking. These would also be great on the grill!
*You can make the patties ahead of time and refrigerate up to 2 days.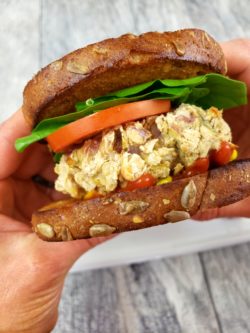 Want help with plant-based cooking techniques, ingredient substitutions or setting up your plant-based pantry?