Creamy Pumpkin Pasta with Roasted Cauliflower
Servings: 8 Calories: 173 Carbs: 30g Protein: 4g Fat: 4g
Ingredients:
1 head cauliflower, chopped into florets
8 ounces linguine pasta (we used Ancient Harvest Corn & Quinoa pasta)
3 cups low-sodium vegetable broth + 1 cup of water
1 cup pumpkin puree
½ cup white wine (Chardonnay or another dry wine of your choice)
1 medium onion, chopped
3-4 large garlic cloves, peeled and finely chopped
½ teaspoon ground nutmeg
1 pinch of red pepper flakes (more or less to taste)
1 teaspoon salt
1 teaspoon black pepper
1 teaspoon garlic powder
1 teaspoon onion powder
1 bunch fresh parsley, chopped
4 ounces vegan cream cheese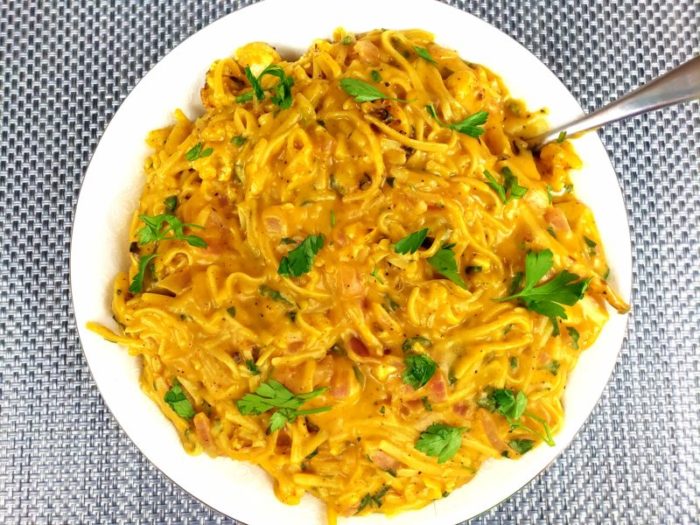 Instructions:
Preheat oven to 475. Line a baking sheet with foil and spray with non-stick cooking spray. Set aside.
Chop cauliflower into bite size pieces and put on the baking sheet. Season with garlic powder, onion powder and black pepper. Bake in oven for approx. 20-25 minutes, flipping halfway through cooking. Prepare the pasta mixture while the cauliflower is baking.
Add all remaining ingredients (except parsley and cooked cauliflower) to a large pot.
Place pot over high head and bring to a boil. When pot begins to boil, set a timer for 9 minutes. Stir and toss with tongs as it cooks (stir frequently in the beginning to break up the noodles).
After 9 minutes, the pasta should be cooked and thickened. Stir in parsley and cooked cauliflower.
Stir, taste and add any additional seasonings as necessary.
*Leftovers can be store in the fridge or freezer.
*Feel free to use edamame pasta to add more protein to the dish or top the dish with protein of your
choice!
Want help with plant-based cooking techniques, ingredient substitutions or setting up your plant-based pantry?