Tofu Spinach Mushroom Lasagna
Servings: 8 Calories: 311 Carbs: 39g Protein: 13g Fat: 11g
1 package of lasagna noodles (we used no-boil gluten-free noodles)
2 packages frozen, chopped spinach, thawed and drained
1 package (16 ounces) firm or extra firm tofu (squeeze water out with paper towels)
1/4 cup nondairy milk (we used unsweetened cashew)
1/2 teaspoon garlic powder or 2 peeled garlic cloves
2 cups sliced mushrooms (1 package)
Juice from 1/2 – 1 lemon (about 2 tablespoons)
2 tablespoons minced fresh basil
1 teaspoon salt to taste (optional)
1-2 teaspoons black pepper
1 jar tomato or pasta sauce of your choice (we used organic tomato basil) or you can try our homemade pasta sauce recipe https://greenzonefit.com/2017/03/homemade-pasta-sauce/
1 package dairy-free mozzarella cheese (optional)

DIRECTIONS
1. Preheat oven to 350 degrees. Spray a 9×13 baking pan with non-stick spray and set aside.
2. Cook lasagna noodles according to package directions or use "no-boil" lasagna noodles. Drain and set aside.
3. Squeeze as much water from spinach as possible and set aside.
Place tofu, milk, garlic powder, pepper, lemon juice, basil and salt (optional) in a bowl and mash with a potato masher. The tofu "ricotta" should be creamy but still have body.
4. Transfer to a large bowl and stir in spinach.
5. Cover bottom of baking dish with a thin layer of tomato sauce, then a layer of noodles (use about one- third of noodles). Follow with half the tofu filling, then mushrooms, then dairy-free cheese (if using).
6. Continue in the same order, using half the remaining tomato sauce and noodles, and all remaining tofu filling. End with remaining noodles, covered by remaining tomato sauce and dairy-free cheese (if using).
Bake for approximately 20 minutes covered with foil. Remove foil and bake for an additional 20-25 minutes.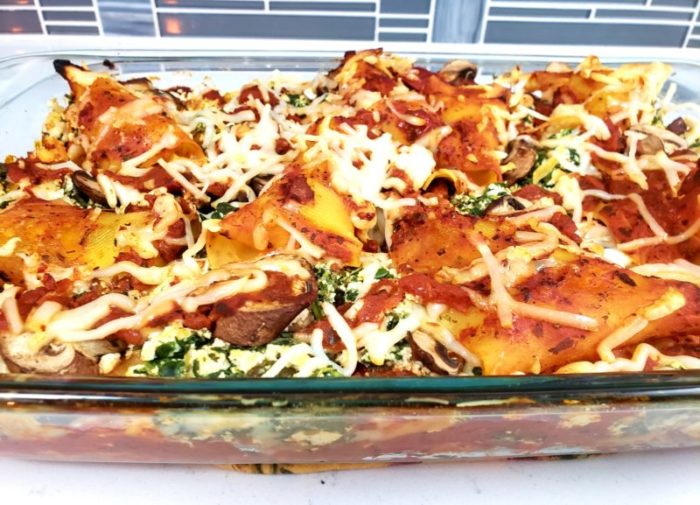 Want help with plant-based cooking techniques, ingredient substitutions or setting up your plant-based pantry?